Quality Management
Han Chang is a professional aluminum manufacturer. Our production processes are reliable and our entire staff works continuously to improve them. Throughout the decades, our aim is to find solutions for the customer that help them succeed with our sophisticated ability of in process quality control and mechanical designs. To meet customer's demand of manufacturing high-quality products has always been our principle of pursuing sustainable growth for our business. We believe quality is the most important factor of business' success, therefore, we implemented stringent quality control management in our processing line to make sure we produce the products that meet customer's satisfaction.
Quality Control Philosophy
【Quality Comes First】
Han Chang always insisting in providing the best quality to our clients. Our production process is aligned to customer needs and our quality chain begins with the first contact with the customers and ends with the delivered product. We implemented ISO 9001 since 2005 to ensure we have the ability to produce excellent quality and applying 5S-methodology in our production line from raw-material to semi-finished products. All of raw-material and semi-finished products will be marked with part numbers and specification during the process. Our quality control staff checks the quality of the material, as well as the precise measurements of the product by the international standard IQC procedure and our overall quality includes checking the measurement of products by the processers themselves by filling out a check sheet every hour.
During the processing, the inspection will be executed from the beginning of the process following the SOP depends on different kinds of products. Before shipping, we will inspect and look for possible deviations or defects to make sure to provide the best quality. In order to avoid product damage caused by transportation bumps, we use of durable cardboard boxes and bubble bags to increase its load strength. We satisfy our clients by innovating technology and the improvement of processing procedure in every steps of the manufacturing process and wins the trust of our clients.
【Establish Standard Operating Procedure】
Establishing SOP when making samples, including the cutting dimension, CNC milling, tools specifications, special fixture, stamping, packaging and shipping will be recorded at the beginning of the process to make sure we provide the best quality when it comes to mass production.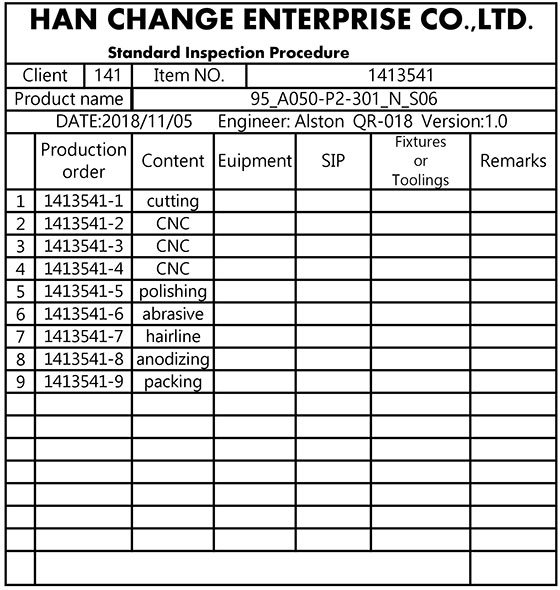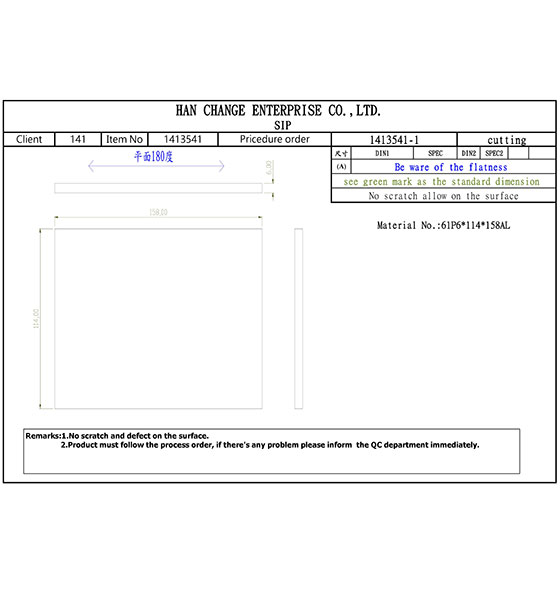 Each of products has a SIP as above, that indicated dimensions clearly for inspection. A processer knows the steps for manufacturing and executing self-inspection easily through it.
【Quality Control Procure】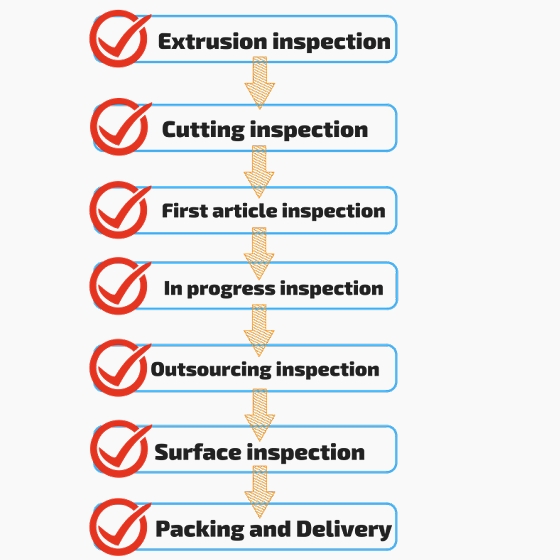 【Quality Discrepancy Report】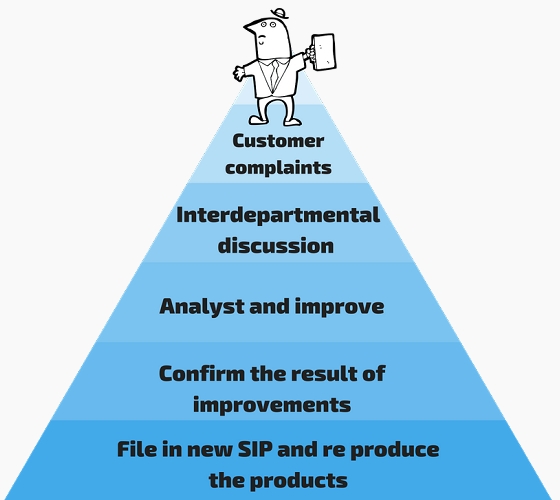 When receiving a quality discrepancy report, we will plan firstly for solving the problems and prerequisites and provide response action. Then establishing a cross-departmental meeting to specify the problems by identifying in quantifiable terms the who, what, when, where, how and how many for the problems. After identifying all applicable causes that could explain how the problem has occurred and why it's not noticed when it occurred, we will verify permanent corrections then define and implemented the best corrective actions. Finally, modifying the management system, operation system and procedure to prevent it from recurrence of this and similar problems.
【Inspection Equipment】
Caliper / Height Gauge / Dial Indicator
Micrometer / Thread Gauge / Pin Gauge
Fixture and Jig
2D Coordinate measuring machine
Hardness tester
Thickness gauge
Luminance measurement
Granite surface plate
Block gauge
Our Advantages
Comprehensive Service

We continuously develop our services in close cooperation with our customers.

Read More

Mechanism Design and Machining Analysis

We have a limitless capacity and rich experience in helping our customers develop solutions.

Read More

Superior Quality

Establishing SOP / SIP for each product to ensure zero mistake during the mass production.

Read More