Service Process
All-inclusive customize service
Han Xiang Technology co., Ltd. is an excellent manufacture of aluminum products. We have a limitless capacity and rich experience in helping our customers by providing the strongest solutions. Our more than 30 years experienceds mechanism design and capability of process analysis striving to help our customers achieve the anticipated results, set targets to reduce costs, and enable company growth to create a win-win situation. IF you are searching for a partner who can improve your quality and reduce your total costs, Han XiangTechnology Co. Ltd. may be the answer! Feel free to contact us for solutions.
---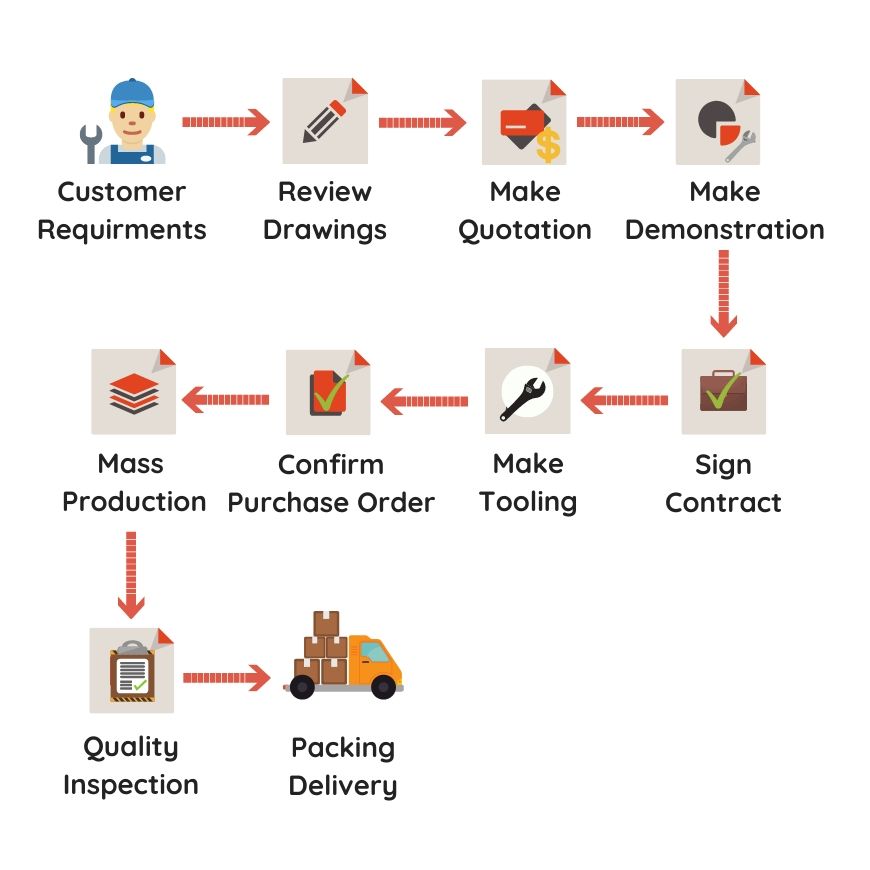 Our team establishing the best services and creating the best products.
1. Understand Customers' Requirements: If you have the drawing already, send it to us and we can discuss about your requirements or you can tell us your concepts and our professional team will do the mechanism design for you.

2. Review Product Drawings: After the discussion, we will review the drawings and evaluating the feasibility of the products and advising process proposal.

3. Make Quotation: We will offer the most economical price with the best quality.

4. Make Product Demonstration: Making product demonstration to ensure it meets customers' expectation and requirements.

5. Sign the Contract: Once the standard of quality has been confirmed by both parties, we will sign the contract for approving the demonstration to be a standard model.

6. Start Mass Production: Starting mass production base on the standard inspection procedure to ensure the stability of the products.

7. Quality Inspection: Inspect strictly from in quality control in process quality control to output quality control during production to ensure the best quality.

8. Packing and Delivery: Delivery the product in time with durable cardboard.